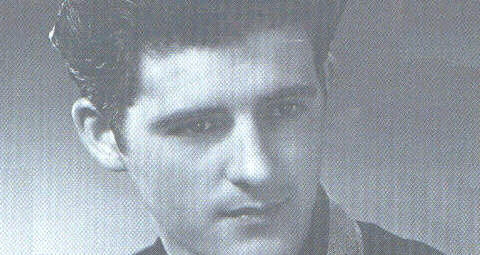 Franklin Delano Gulledge was born in Combs, Arkansas, in 1932. He lived his early years during the depression, and was never far from the edge of delinquency and very close to going over the edge (according to music scholar
Wayne Russell
) when he pulled a pistol on a teacher. At the age of 14 he had left school and was riding the rails and living life as a hobo.
He was 17 when the Korean War intensified and he signed up. An officer who knew of his musical ability assigned him to the special services rather than to a combat unit, where his fate might have been very different. He formed the Arkansas Plowboys from the ranks of fellow southerners and survived his two years in South Asia, coming out a little bit straighter in life than he'd gone in.
He drank, sometimes to excess, but he did try regular work in a factory in Kansas before moving to California. There, he and his brothers Bob and Clark formed a new group, also called the Arkansas Plowboys. Billing himself as Frank Starr, he played lead guitar in the band and soon realised that he was a better singer and musician than his soblings, but he was also more serious about making it big in the music business. So he packed up and for Texas, and in the early 1950's was scratching out a living around Denison for two dollars a night, working some of the roughest roadhouses and shanty-town clubs in the state, catering to military personnel and anyone else brave enough to enter. Undaunted by this he hung on and built a reputation for doing an exciting show and generating a hot rockin' sound. In 1955 he got a spot on local radio into an audition for
Joe M. Leonard Jr.
of Lin and Kliff Records.
Leonard
was impressed enough with Frank to have him cut four sides, two of which, "Dig Them Squeaky Shoes" and "The Dirty Bird Song (You Can't Hardly Get Them No More)", become his debut single. Although neither his first nor his second singles were hits, Frank managed to get work on the same bills with the likes of
Porter Wagoner
and
Grandpa Jones
. He also occasionally wrote songs, including "Rockin' and Reelin' Country Style." Then, in 1956 Frank became
Andy Starr
as another singer was using the name Frank Starr in California.
Joe M. Leonard Jr.
was unfazed by this, and was prepared to continue recording his most promising rock & roll act. He got
Andy Starr
placed with MGM Records, which resulted in the release of the classic 'Rockin Rollin Stone' b/w 'I Wanna Go South'.

The record received popular local success. But his next release 'Give Me a Woman' failed to course even a ripple and this was probably the reason Frank left for Alaska for five years and this decision stalled whatever career momentum he might have built up at this time. He recorded as Frank Starr in Alaska and he seemed to have kept name he went to record a couple of tracks for Holiday Inn Records in Memphis Tennessee 1962.
'Knees Shakin' b/w 'Evil Eye' - Holiday Inn Records
The vinyl record 45 I own is a promotional copy and leans more to the strollin' side of rock n roll than the hot rockabilly of his MGM recorded material.
Label scans and vinyl rips included in Download (4.33MB)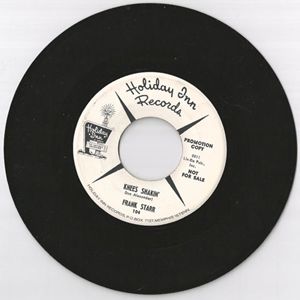 He
spent the late 1960's and the early 1970's as a sawmill worker, living in Kingston, Idaho. He tried cutting some country music sides for his own Starr Records label, again without success. He also continued to perform locally and write songs, which he published through his old producer,

Joe Leonard

.

By the 1970's, he'd developed other interests, including politics, he ran (unsuccessfully) for the Idaho legislature in 1974, and then for President of the United States, twice, in 1976 and 1992 but he never got anywhere near the Oval Office. Frank (Andy) Star died in September 2003 at age 70 of complications from pneumonia. He had lived long enough to see his complete 1955-63 sides issued on CD by Bear Family Records.